What do Movado, Lamborghini, and MrSteam's revolutionary iSteam have in common? Effortless elegance.
The iSteam's revolutionary touch screen display and feature-rich menu offer an unsurpassed, customizable user experience. Along with a stunning graphic interface and bespoke design by world-renowned Industrial designer David Farrage, whose experience with Movado™ and Lamborghini™ is evident in iSteam's contemporary styling.
iSteam 2.0 with WiFi & Mobile App
Watch Video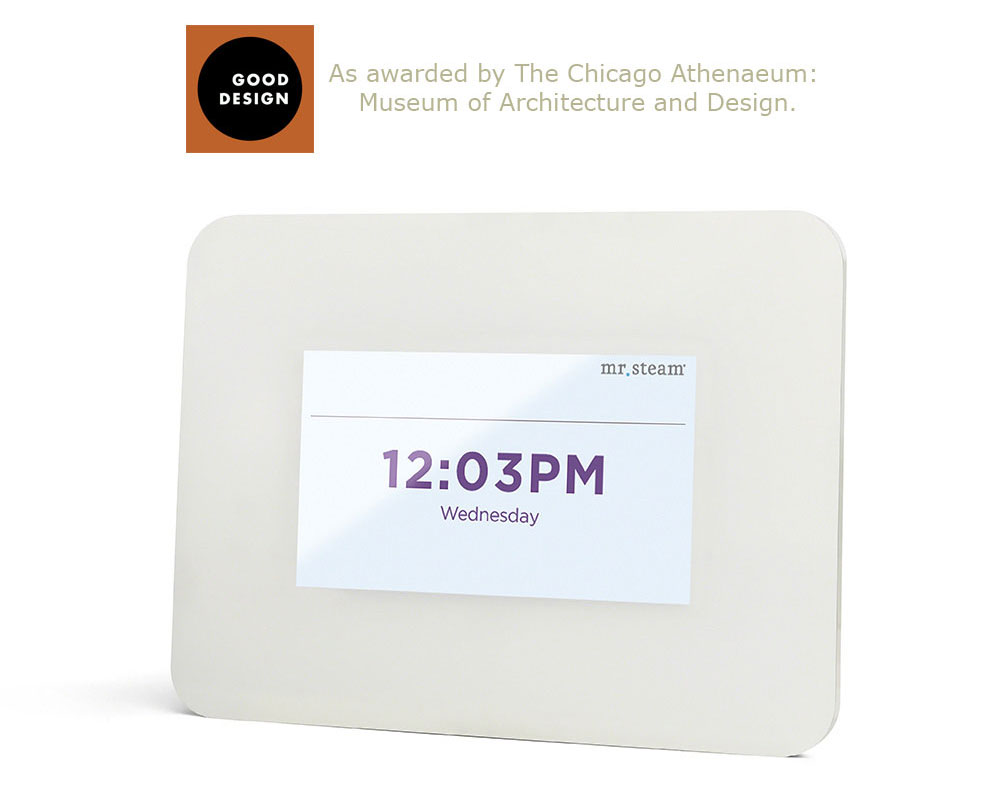 The iSteam control now has an app!
MrSteam's mobile app lets you control your steam room's iSteam 2.0. The App is compatible with iOS 6.0 and up; Android 2.0 and up and lets you:
Customize user preferences
Enable user presets
Monitor current room temperature
Set steam session duration and temperature
Adjust ChromaSteam and AromaSteam
Access your entire music library and internet radio
Have full control of your music with record artwork and song selection
High tech meets high touch with the iSteam home steam shower control. As easy to use as a smartphone, the highly intuitive LCD touch screen features beautiful graphics and high-performance in wet environments.
Swipe-touch simplicity controls temperature, duration, aromatherapy, chromatherapy and music, turning your steam shower into a sensory spa.
The iSteam microprocessor deciphers between a touch or drag of a finger to perform the correct action.
The iSteam's Auto-fading display incorporates a real-time clock, individual user preference settings, and screen dimming technology.
iSteam displays only the function the user wants, instead of a confusing array of tiny buttons or complex navigation.
Manufactured with the highest-quality, fused silica glass and polished cast aluminum, iSteam has attained a high level ingress protection rating of IP-67, and is capable of full water immersion of up to three feet.
iSteam employs an exclusive three-tiered safety system with passcode protection, temperature limit and time-out features built to ISO-9001 certification.
Featuring an optional Bluetooth® Audio Streaming System, iSteam pairs up to eight devices and four in-shower speakers.
iSteam can be used with all eSeries Generators, as well as the wireless iGenie® control.
Available in black and white finishes.
A swipe and a tap on the screen of this sleek, moisture-proof control pad is all that's needed to select the settings for a customized steam shower experience. The 4.3-inch liquid crystal display screen is a mere 1/8-inch thick, sitting nearly flush with the wall when installed.
Available in black or white.
Language options included with the iSteam 2.0 control are English, German, French, Spanish, and Italian. Users can easily change the language through the "Settings" screen.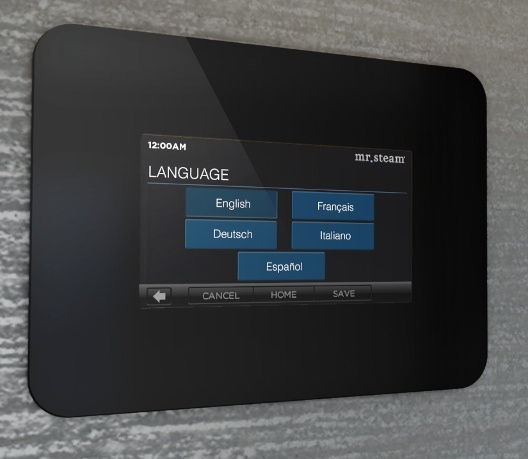 Delivering perfect swipe-touch simplicity in hot and humid environments, iSteam 2.0 with WiFi offers unparalleled functionality and options for personalization. Characterized by a sleek, contemporary graphic interface and design, the iSteam control is simple and intuitive to use. With the touch of a finger, users can control a wide array of features, including temperature, duration, aromatherapy, chromatherapy and music.